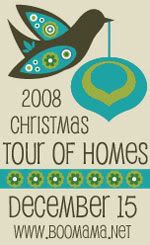 BooMama
is hosting her
Christmas Tour of Homes
again this year and I'm happy to be joining in the fun. Let's get started!
The entrance and front door to our house. My mom made these sweet carolers for us last year and I just love them!
Our foyer - I've shown this tray and hurricanes before (
here
and
here
). I tried to keep the Christmas decorating somewhat simple this year since I am pregnant with our first child and don't have the energy to completely change things around, which is why I've just added seasonal accents to the hurricanes.
To your right is our powder bath - feel free to stop in if you need to.
As you come into the house you'll see our fireplace straight ahead and to the left.
The stockings from left to right are our kitty Jasmine's, mine, and A's. We don't have a stocking for the baby yet because we're waiting until he/she is born to find out the gender and we'll probably buy a stocking that is somewhat gender specific once we meet this little person.
This small Christmas village is on our end table. These pieces belonged to my Nana and Grandpa and last year they were given to me since my grandparents have passed away. It was very special to put them out this year.
Our coffee table:
The piano and front door in the background:
This nativity scene was given to me by my parents when I was a teenager. It has three wisemen and more animals, but we didn't put everything out since we're going for a simpler look this year. I kind of like the quiet peacefulness of just Mary, Joseph, Jesus and a shepherd.
Our Christmas tree, which we like to decorate with sentimental ornaments from our childhoods and the four years we've been married:
Just beyond the tree is our kitchen table and hutch:
We display our Christmas cards on this card holder that I found at Goodwill last year for about $2. It is from Target and still had the tag on it - I love finds like that!
Thanks for taking the time to visit our home and my blog! I pray that this Christmas season is especially meaningful and that you have many special moments with our Savior during this busy time of year.
For to us a child is born, to us a son is given, and the government will be on his shoulders. And he will be called Wonderful Counselor, Mighty God, Everlasting Father, Prince of Peace.
Isaiah 9:6 NIV
Blessings and Love,